"Jaffa projects are without equal in quality and attention to detail. The advantages of having the architect, designer, and builder all-in-one result in the most well thought, well produced, product in town. Working with Jaffa group continues to be a pleasure."
Brian & Kirsten Shirken
"We wouldn't hesitate for a second to build with Scott and Richard Jaffa again! Our recent design and build experience with Jaffa Group has been stellar down to the tiniest of details.
We challenged Jaffa Group to fast-track our project to be ready for the next ski season. They achieved that goal:  on time and on budget. Scott was very responsive to our questions, ideas, input, and he allowed us to build 'our' house. But he didn't hesitate to voice his opinion and stick to his guns when he felt strongly about a detail that would impact quality. The tradespeople – most of whom had long standing relationships with Jaffa – responded swiftly and professionally to every scenario.
Mutual respect runs through the entire Jaffa operation. Between Richard's long-standing credibility and sense of humor, and Scott's high energy and efficient guidance, our collaboration with Jaffa Group was productive, considerate and really a lot of fun."
Ira & Karen Hammerman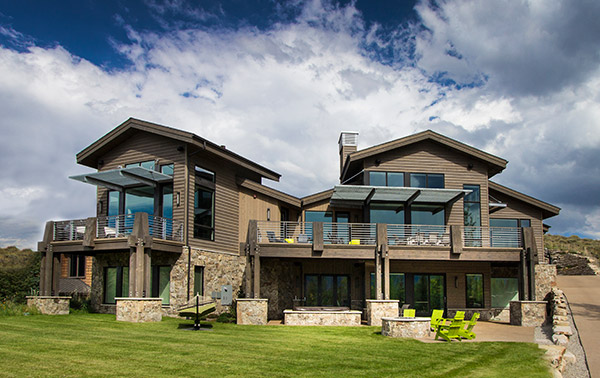 "By using Jaffa Group from the very beginning to plan, design, build and furnish our home, we achieved a contemporary mountain home with a beautifully integrated exterior and interior that exceeded our expectations.
For the five years prior to building our home, we would spend a portion of our time in Park City looking at existing homes. Whenever we would enter a house where the architecture style and design matched our personal aesthetic we would ask, 'Who is the architect and builder of this house?' The answer was Jaffa Group.
We gave Scott an extensive list of all the elements that we wanted. He and his team listened. Scott's meticulous placement of our home combined with his careful positioning of expansive windows allowed for stunning mountain views from practically every room. Similarly, Richard worked tirelessly overseeing every aspect of the construction resulting in a home that is solid and well built. We were so impressed with Jaffa Group's artistic sensibilities, we asked them to help us select all the furniture and accessories as well. Their discriminating taste and style completed the overall look that we had hoped to achieve."
Adam & Kate Firestone
"As non-residents, we were nervous about attempting a complete remodel of our home. Scott and the Jaffa team kept in constant contact with updates, photographs and other progress details. We were only able to visit the job-site once during construction yet always felt fully involved. Jaffa Group completed the job on time and under budget. When does that ever happen?"
Bill and Jean Martin
"We had our home completely remodeled by Scott and his crew and could not have been happier with the results. We LOVE our new home.
Everyone hears the nightmares about doing a remodel; we did not experience any of it. Scott not only listened to the vision we had, he made exactly what we had in mind. The entire crew was organized, on time, courteous and attentive to our ideas. Everyone stayed right on schedule with a minimum of intrusion on the neighborhood.
We highly recommend the Jaffa Group. Our only regret is that we don't see Scott on a regular basis now that it's done!"
Geri Manning & Buck Schottland
"Jaffa Group is unique in their knowledge of what makes a great home ­– from architecture and design to quality construction. The process is a joy because Scott Jaffa has handpicked all the best companies to work with i.e. appliances, cabinets, plumbing, closets, etc.
It's abundantly clear that Scott and his employees are as concerned about your home as you are."
Michael & Gale Corcoran
"Being corporate gypsies, we have built and remodeled more residences than we care to remember. When it came time to completely remodel and expand our Park City home we were fortunate enough to engage Jaffa Group as our partners in the journey.
A few words about Jaffa Group: Smart, honest, creative, focused, patient, and collaborative. Richard and Scott, with their unparalleled experience in design and construction captured our vision and made it our home."